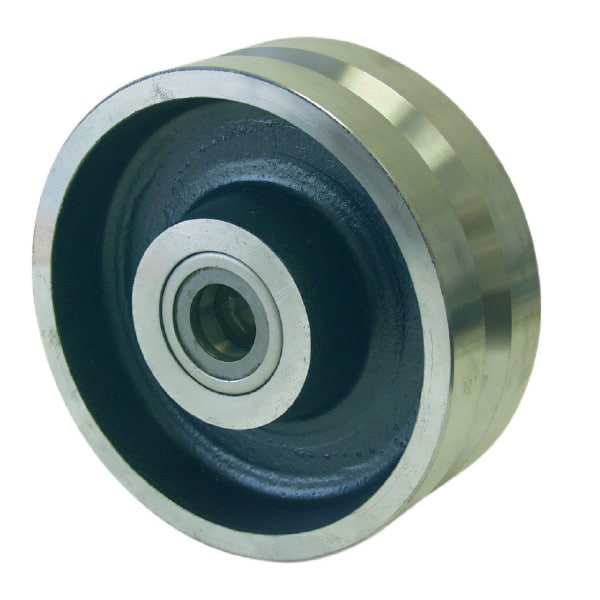 If you need an industrial-strength wheel that can roll smoothly along a track, look no further than the V-Groove Wheels from RWM Casters. Designed with a groove to fit on an inverted angle iron track, these wheels can navigate the most challenging environments smoothly and won't break down when exposed to extreme temperatures. With a sturdy design, they'll roll along with ease, making your applications smoother and easier than ever.
The Strength & Durability of V-Groove Wheels
Our V-Groove wheels can be manufactured in either high-strength cast iron castings or forged steel, giving them superior strength. These premium materials allow the V-Groove wheels to have a load capacity ranging between 700 and 15,000 pounds, allowing them to handle your most demanding applications. Even if you need a wheel to withstand extremely high or low temperatures, the V-Groove wheel won't crack under pressure. From minus 50 degrees to 800 degrees F, these wheels will continue to roll along without a problem.
Experience Seamless Transportation
Able to be used on both a track and smooth floor surfaces, our versatile V-Groove wheels will transport your carts and materials smoothly. The self-cleaning V-groove on these wheels can come in a range of widths between 7/8 and 1.75 inches and depths ranging from 7/16 to 11/16 inches. The grooves also prevent clogs from occurring, so you don't have to worry about cargo toppling over. The design of our V-Groove wheels also allows them to take turns efficiently and continue to provide superior performance over long distances.
Uses for the V-Groove Wheel
For challenging environments where smooth and reliable transportation is key, the V-Groove wheel is the way to go. Common uses for our V-Groove wheels across various industries include:
Rolling ovens
Automotive production lines
Aerospace assembly
Ventilation equipment
Sawmills on tracks
Food processing
Lumber processing
Various production lines
And more
Choose RWM's V-Groove Wheels for Your Applications
For unmatched quality and exceptional wheels and casters, you need RWM Casters. All of the products we offer are rigorously tested, so you can rest assured that you will always receive superior wheels and casters from us. We've been in this business since 1935, so we know what it takes to provide the best wheels and casters in the industry. Our unwavering commitment to quality has earned us a reputation as a market leader and led us to set industry-wide standards.
So, when you want a superior wheel for your applications, go with our V-Groove wheel. If that's not the right fit, we'll help you find the ideal solution from our wide range of wheels and casters.
Call 800-634-7704 or contact us online today to learn more about all the advantages of uses for the V-Groove Wheel from RWM Casters!